National American Miss
the 2004 Miss Washington Preteen Pageant
Some preliminary pictures of Brittany Ann Gordon's outfits.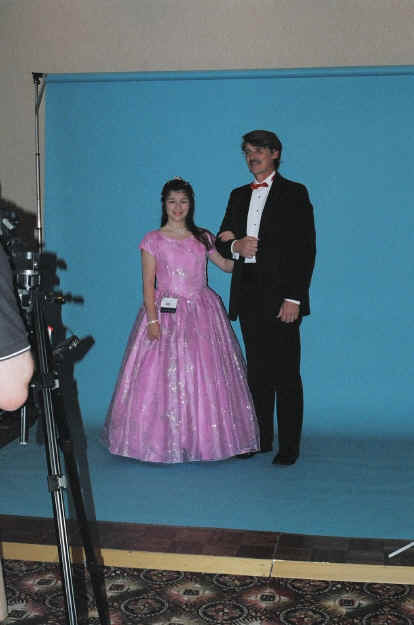 Looking very princess-like, Brittany is having her picture taken with her dad (her formal wear escort). The dress is the McCalls Quincerra pattern. It is made of Casa Satin from JoAnne's. The overlay is glittered organdy to which I added Swarovski crystals with the L'orna Decorative Touch wand (available from Martha Pullen Company). I added them to her dyed to match shoes too! Easy and fun to use -- it really took her gown over the top. On stage the crystals glimmered! Very Cool!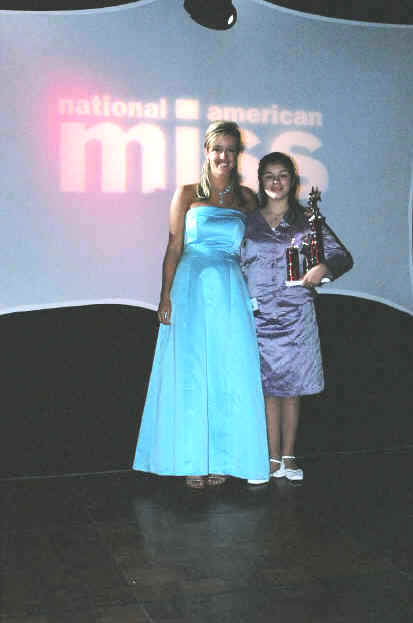 Brittany Gordon with Megan Shrader, emcee for the main pageant events. After being awarded the State Ambassador trophy. Brittany is wearing her interview suit which is made of lavender silk dupioni from Martha Pullen Company (it's underlined with Martha's favorite batiste and lined with silk charmeuse. The pattern was adapted by Brittany's mom. It features princess lines, no lapels, a sweet little bow on the back and self-covered fabric buttons to keep appropriate for a 10 year old.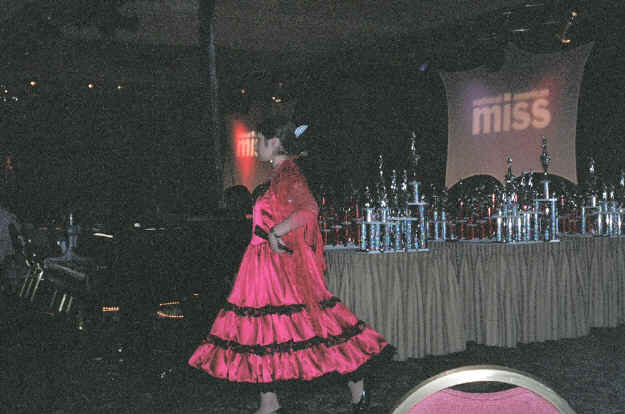 Here Brittany is heading to the grand piano in her Spanish lady regalia. She played Spanish Fantasy on the piano, a very fast paced flamenco piece. The dress is made of costume satin with inexpensive lace. I used her formal pattern for the top and then just made the layered skirt myself. She has black fringe at the neck (which is traditional) and her shawl has fringe on the two sides. The third side is the pre-scalloped edge of the lace. She is carrying a Spanish fan (which she opened at the end of her piece) and has a comb and red rose in her hair. She really looked the part.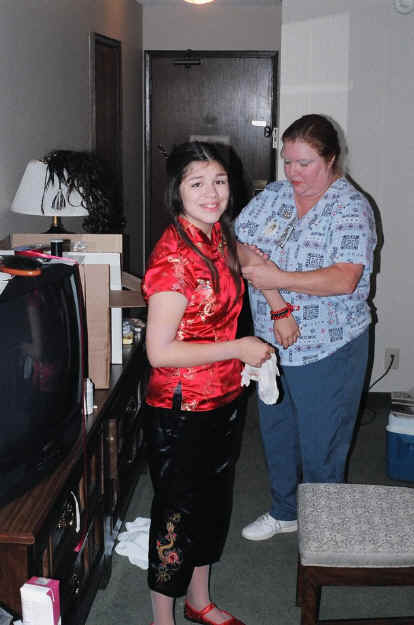 Brittany isn't too happy about getting lotion on her rough ten-year-old elbows. She is dressed in an outfit she designed herself for the casual wear competition. The shirt is a Mandarin-style in red brocade with gold "frogs" at the right shoulder. The capri pants are crepe-back satin with gold, red and silver dragons on the outside of each leg. The dragons eyes are highlighted with Swarovski crystals (the dragons are from a Viking embroidery soft wear). She is wearing red brocade Chinese Mary Janes and rhinestone studded chop sticks in her hair and has a bracelet with Chinese writing on it. She called the outfit "Orient Express"! She picked it because she loves oriental things and Japanese animation cartoons.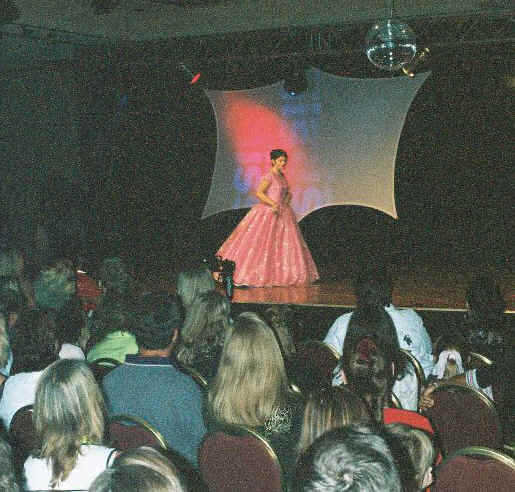 This is one of my favorite pictures. Brittany during the formal wear competition's parade of gowns. They just happened to use the pink light and I just happened to get the picture! One of those lucky shots.
You can Sponsor Brittany at the
2004 National American Miss Nationals!
Back to Brittany Gordon 2004 Miss Washington Cover Girl Home Page