Merina (Brittany) Gordon's celebration of 15

Her Quinceanera Celebration
Julia (Damey) Brewer read the first reading from Chapter 9 of Isaiah. The readings at the Mass were those of the Feast of the Queenship of Mary, which was on August 22.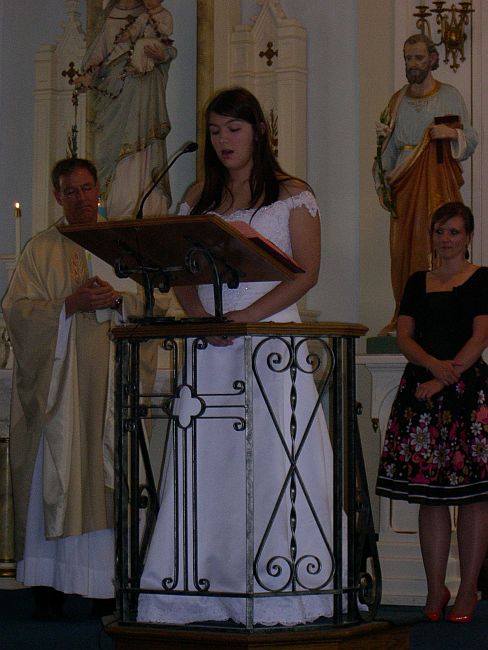 Merina (Brittany) sang the Psalm.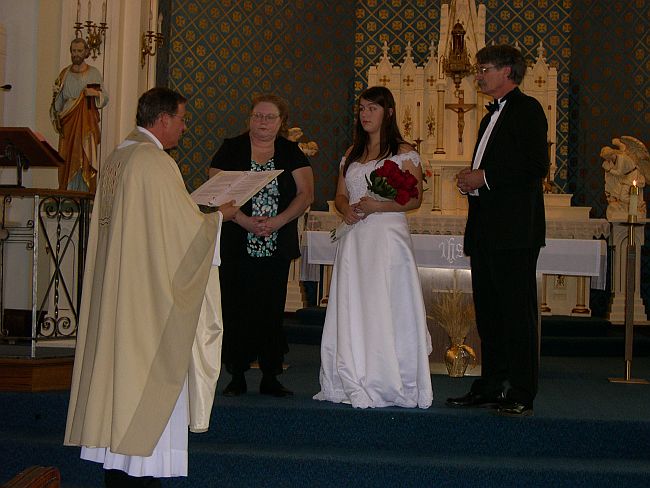 After his homily, Fr. Bob Turner asked Merina to freely repeat her Baptismal promises.
Renewal of baptismal promises
Brittany, when you were still very young, your family brought you to the baptismal waters to be initiated into the new life of our Savior Jesus Christ. At that time they made a profession of faith for you in your name, the same faith that now you bring before this altar. Therefore, the church now asks you to renew and to confirm this same commitment freely and with personal conviction.
Brittany, do you reject sin in order to live in freedom as a daughter of God? I do.
Brittany do you reject the seduction of evil so that sin will not enslave you? I do.
Brittany do you reject Satan father and author of sin? I do.
Do you believe in God the father Almighty Creator of heaven and earth? I do.
Do you believe in Jesus Christ his only son our Lord who is born of the Virgin Mary, suffered, died, and was buried, rose from the dead, and is now seated at the right hand of the father. I do.
Do you believe in the Holy Spirit, the holy Catholic Church, the communion of saints, the forgiveness of sins, the resurrection of the body, and life everlasting? I do.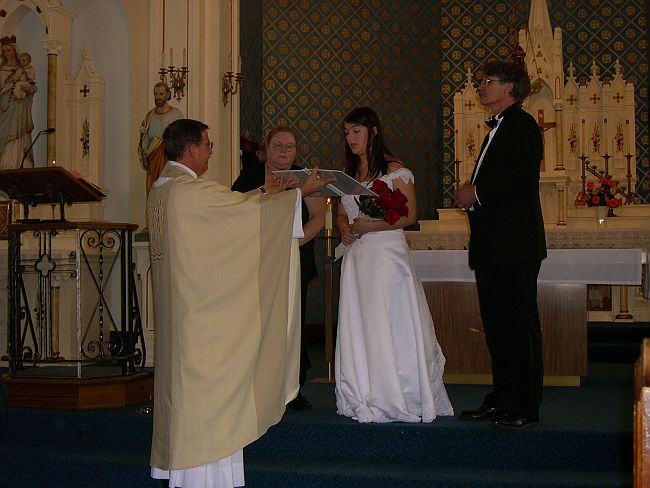 Here is Merina making her prayers of offering to God.
I offer you, Lord, my youth. Guide my steps and my thoughts. Give me the grace to understand your law, the law to love one another. May your grace given to me not be lost not be in vain, this I ask through Jesus Christ your son our Lord and Savior. Amen.
Oh Mary, my mother, please present my offering of my life to the Lord. Always be my model and my valiant mother my stronghold and my guide. You have the power to change hearts; take then my heart and make me your worthy daughter. Amen.
In the presence of God and my family, by an act of my own free will, I vow and covenant to Almighty God, to the Blessed Virgin Mary, and to all the Saints and Angels of heaven, that I do now offer and promise to live a life of Chastity according to my state in life.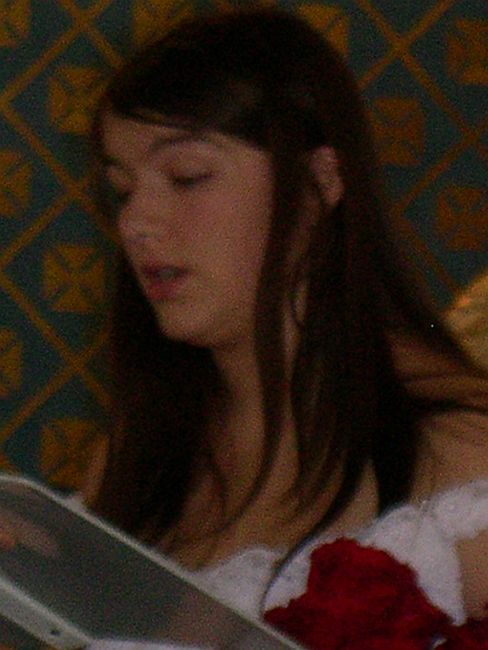 A closeup.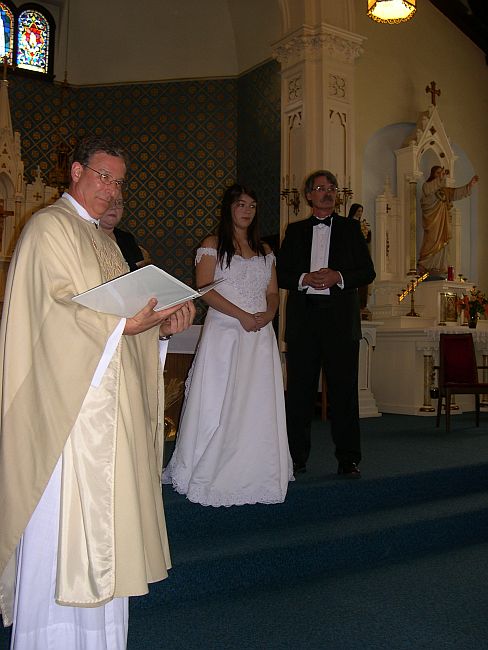 We're waiting for Amy, Victoria, and Thomas to bring up the religious articles for a blessing. Thomas never made it.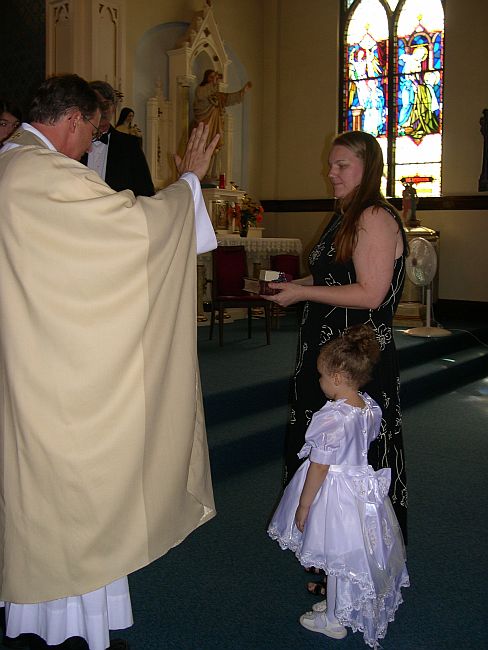 Fr. Bob blesses the Rosary and prayerbook, the medal, and crucifix.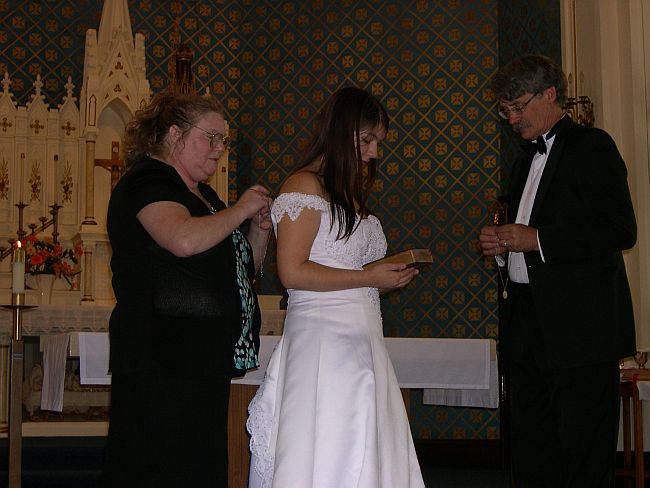 Mom puts on Brittany's Crucifix necklace.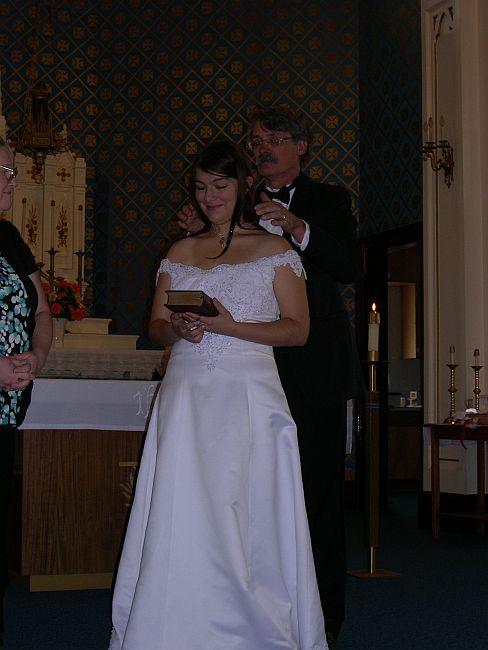 John puts on the necklace with the medal.
Nephew Michael reads the first of the intercessions.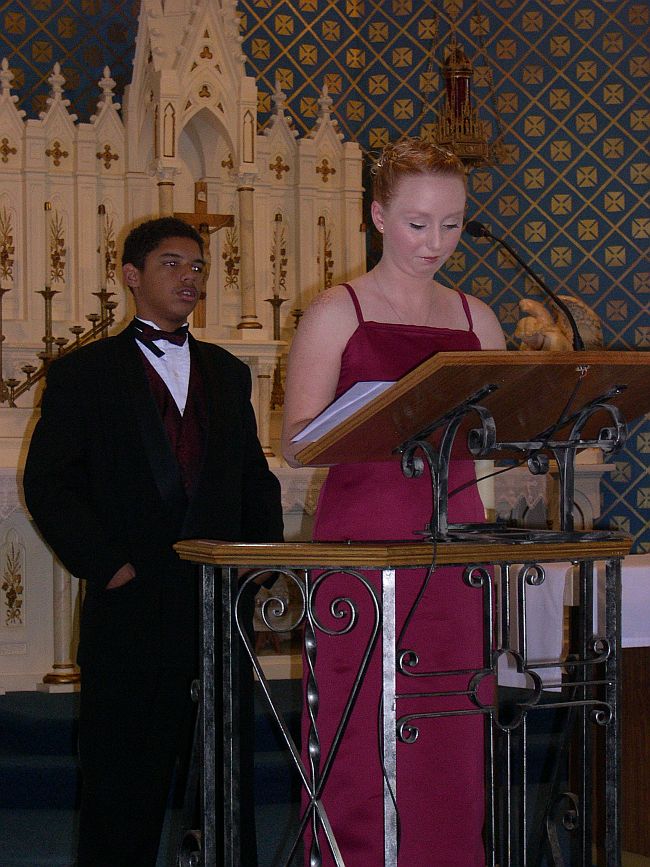 Merina's best friend Destiny reads the second set of intercessions.
Let us pray for the holy Church, may Brittany always be faithful to God and attentive to the good of all the members of God's people.
For our sister Brittany who has just reaffirmed her baptismal commitment, on this day in which we celebrate her 15th birthday with faith and love, may she always give witness to Christ in her life.
For Brittany's parents and godparents who have been responsible in teaching her the practices of the faith may they always through word and example assist her to faithfully follow Christ.
For our Bishop William and for all the priests of the diocese and for all members of the parish leaders throughout the diocese, may they always be faithful to the baptismal grace they have received and exercise their ministry with fruitfulness for all.
For all the young people who are here friends of Brittany may they open their eyes to all that is beautiful, their spirit to all that is true and their hearts to all that is good.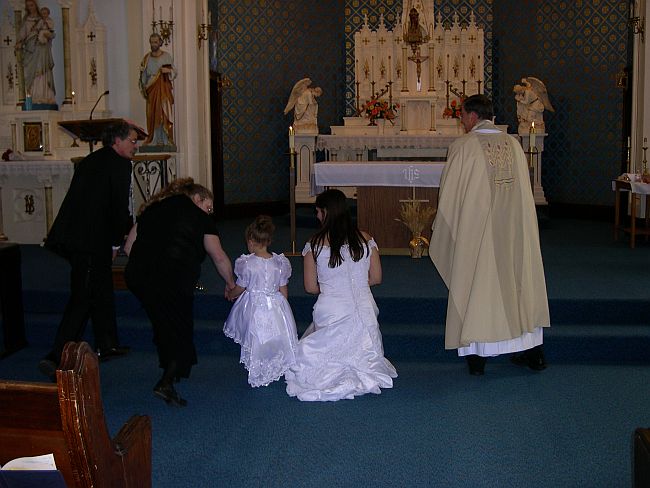 Genuflecting after Mass.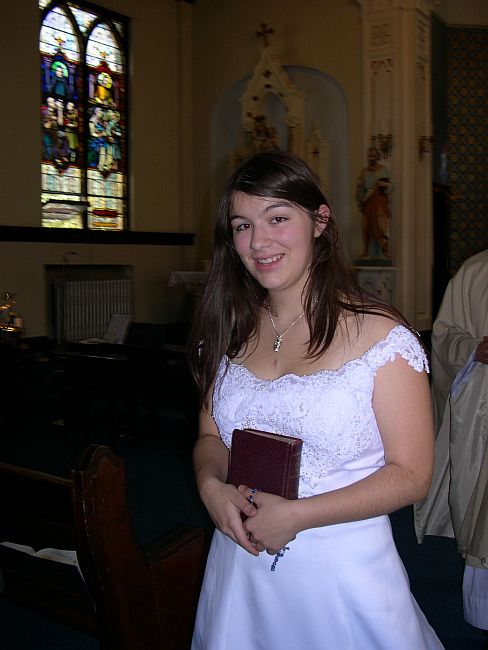 Here she is!
Photos on this page were taken by Brittany's friend since she was 2... Melissa Flesch.
You are at MerinaGordon.com
All Contents Copyright © 2010-2012